Hi all!
Wasn't it fast? The 2nd T-1 WORLD CUP which opened one month ago is closing tomorrow at 3:00pm (Japan time)!
The rankings shifted drastically every day. It still is a dead heat race!
Tomorrow, the game ends, and a new champion will be born.
Today we'd like to review the 24 contesting t-shirts with you, along with some episodes and e-mails messages we received.
Click the designer's name to jump to the details of the t-shirts!
24 t-shirts marching in! Here we go!

Peace from New York
Stefan Sagmeister
A logo cut out from a portrait of John Lennon is on the front. This fine design is done by a designer who has received the Grammy Award for best package design! A number of the participant designers complimented on this design, especially Tsuguya Inoue. Inoue's comment on Stefan's design: "Sagmeister's design is brilliant!"

The t-shirt jumped into my eye. I feel like I can hear music from the balance that the crumpled letters create. Black on white, simple, and cool!
(Anonymous)
Related article:
Photo from Stefan in N.Y!

104.5 degrees
Taku Satoh
An important angle for us, 104.5 degrees. The refreshing cool color is one reason for its popularity. This was Tsuyoshi Kosaka's (mixed martial artist) favorite too!
Have you solved the quiz, by the way?
If you already have, Taku gave us a new quiz to solve!


The moment I saw this t-shirt, the color got me. Even with the other t-shirts lined up, this t-shirt always catches my eye. The quiz on the t-shirt is fun to solve, and fun to wear.
(Anonymous)
Related articles:
Have you solved the quiz? 104.5 degrees.

Be Great
Kam Tang
A highly proclaimed t-shirt in the T-1 talk session. This t-shirt is done by a young artist in UK, Kam Tang. Kam has designed the cover for the album of Chemical Brothers. Silas Hickey participating in T-1 from Australia chose this design as his number one.

I really like "Be Great" by Kam Tang. It's a design that will make you smile. The way it makes you want to jump outdoors! BBQ wearing this t-shirt sounds nice. Some beer to go with it sounds good too!
(Shiochan)

LION HA-NETEIRU
Tsuguya Inoue

A comical illustration of a lion bitten in its bosom is printed on the front. It is a design that will surely make you happy! The defending champion of T-1, Tom Vincent chose this as his favorite design.

Related articles
Amazing Happenings around Tsuguya Inoue
Jun Miura Models for a T-shirt!

Bara Iro
Naoto Fukasawa
A soccer ball of roses. It may look feminine at first, but both genders are voting for this t-shirt. It was interesting to see the American football team, the Tomahawks of Hosei University choose this as their number one t-shirt.

The red rose on white is simply beautiful.
Maybe there are many rose designs for women, but this rose-pattern is a rare design that men can wear on a daily basis.
(keroyon)

BlueBaby
hamansutra
A crushed dummy baby, used for vehicle accident tests is printed all over the front. He's the only fashion designer among the contestants, and you can see that in his fashionable design. Of course our readers loved the design, and Shin Sobue is also a fan of this design.


Definetely cool! This t-shirt rocks!
(anonymous)
Related articles:
Designers wear their own t-shirts! -Round 1: Hamansutra-

Intersteller Greeting Card
Silas Hickey
The motif for the illustration on the front is a plaque that was on board Pioneer 10 and 11, spacecrafts launched in the 70's. The design is favored not only by the 70's generation, but also the younger generation.


I bought this t-shirt for my father who is retiring from a space-related job next spring. It's past his birthday already, but I can't decide whether to give it to him when the t-shirt comes, or wait until his retirement. I'm so excited!
(Teruteru Bozu)
Related articles:
Silas Gets his T-shirt!

WHERE IS YOUR COUNTRY?
Michihiko Yanai
The world atlas spread on the front and back. Japan is placed at the heart. The aim is for everyone to point at his/her homeland. Readers are telling us what a great concept it is! The atlas is printed with glow-in-the-dark ink, so you can enjoy the fun in the dark too!


I belong in a club where international students gather, so I will wear this t-shirt and have everyone point at their country. I love the idea of a t-shirt to empower cross-cultural communication!
(anonymous)
Related articles:
Inside Story -"WHERE IS YOUR COUNTRY?" by Michihiko Yanai

chopin funclub
Kinga


Kinga is a famous video artist in her home country, Poland. Her respect towards the great Polish composer Chopin is expressed through this t-shirt. This t-shirt goes well with a big smile and a cheerful victory sign. Check out the T-1 team model photos!


The second I asked my husband which t-shirt he thinks I should get, and he pointed at Kinga's t-shirt.
(Me)
Related articles:
Promo Battle! -Kinga representing Poland-

KOINOBORI2006
Katsunori Aoki
A boy with a koinobori (carp streamer) on his head on the front, and the word "Japan" in an original font on the back. The print is stamp pressed in silver, and it gives a good shine. The T-1 team models loved this t-shirt when they actually saw it!


The brown color of the t-shirt, and the silver stamp pressed print is lovely! The shining "Japan" on the back is great too!
(Matsumoto)

Ventriloquist of Eleven
Nando Costa
A rising young designer from Brazil, Nando Costa. The unique design stands out in the 24 entries of this year. His design was inspired by the coach as a ventriloquist controlling the whole team. In our impression, people related in the art field favored this t-shirt a lot.


I am impressed by Nando's design. It seems simple, but at the same time it has depth. It just really drew my attention, I had to buy it.
(Anonymous)

The configurable T-shirt
Usman Haque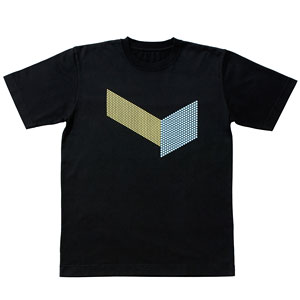 The hexagon shaped pixels printed with foam ink on this shirt are for you to color, to create a design of your own. He even created a website for us where you can try this out! As an architect, he wants to create a framework for people to reside in and can create any kind of space they wish. This idea of his flows in this t-shirt.


Usually designers want to create their own design and don't want others to intrude it, but this idea of letting the users create their own t-shirt is really awesome.
(Tororo)
Related articles:
A Visit from the Designer! -Usman Haque-

usagidesu.yoroshiku.
Tom Vincent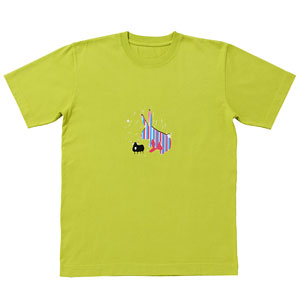 Tom portrayed a scene from his home in a countryside in England in this t-shirt. People are predicting that he will win again this year, including designer Taku Satoh. Check out the blog of the usagi!


Tom's t-shirt is lovely, colorful, and friendly. It's a scene from a countryside in England, but the "usagi" reminds me of a countryside in Japan. It's a t-shirt that cheers you up.
(akiko)
Related articles:
The Defending Champion, Tom Vincent!

T(ypography-shirt!)
Oded Ezer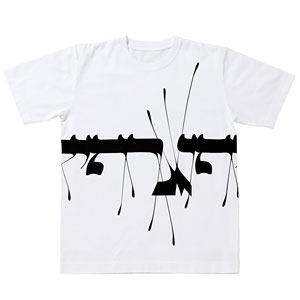 Oded Ezer is not yet a well known artist in Japan. However, we received tons of e-mail from our readers on this t-shirt. Most of them just seem to have fallen in love with this design at first sight. It taught us that a good design is borderless, and that the famousness of the designer is not an issue. We hope that typography as a form of art becomes more popular in Japan!


The balance of black and white, the way it looks like an abstract painting, the way it has a Japanese calligraphy touch to it, that it's modern and sharp, I just love it!
(Nonchan)
Related articles:
Create your own Hebrew Typography!

AISHITAI NIHON
Ayumi Ohashi
The people who like this t-shirt seems to be drawn to this vivid blue color. Her illustration of the sun and the waves, and Mount Fuji on the back is a work that can only be done by her. She hopes that people will think about being proud of Japan with this t-shirt.


I want to buy "Aishitai Nihon" as a gift for my father. The shape of Mount Fuji on the back is just brilliant, and I think this t-shirt will look good on my 66 year old father.
(Kimura)

Fighting Club
Poledesign
This t-shirt "Fighting Club" is the image of Shanghai, a city developing in an unbelievable speed, a city where you have to compete with yourself or with your counterworkers.
Readers who like Asian items love this t-shirt. The champion of last year, Tom Vincent also was drawn to this design. And we can't forget the students from abroad. They chose this as the number one t-shirt by a landslide!


I am into Asian clothes these days. I was looking for a t-shirt like this! Nothing more to say. I'll buy it!
(Tororo)
Related articles:
A Quick Visit to Poledesign in Shanghai!

Tea-shirt
Klein Dytham Architecture
A tea whisk from Japanese tea ceremony, a tea cup, and the message "LET'S FOREIGN" on the front. On the back, "Gaijin Joto!!!" It's a design only a architect unit of UK and Italy based in Japan could create. The logos are a global message from KDa, encouraging you to jump out into a world where you can become a Gaijin (foreigner)!


The combination and balance of deep navy and pink is fantastic. Plus, I collect tea cup patterned items. The illustration drawn with fine lines is simple and nice.
(Anonymous)
Related articles:
A Visit to the KDa Office!

MounT.FUJI
Gugi Akiyama
The purple color and the Mount Fuji graphic stand out among the 24 designs. We're receiving comments on it both in and outside Japan! Akiyama tells us you can look like an erupting volcano if you where it when your face is red, like when you're drunk or when you're upset!


My husband (German) yelled "Definitely Mount Fuji!" So it's decided.
(Yumi)
Related articles:
A Peek into Akki's Home!

stitched
Jun Aoki
An almost completely white t-shirt, with a pink print of stitched thread done with thick ink. The architect representing Japan designed the simplest t-shirt. The readers who chose this t-shirt preferred this simple but chic design. The pink stitch, by the way, continues to the back of the shirt.


I wanted a "simple but cool" t-shirt, so I bought "stitched" for myself. It looks like a plain white t-shirt from far, but from near, it's a chic design! I hope people say that to me when I wear it.
(Teruteru Bozu)

sleepingfish
Shin Sobue
Two goldfish sleeping in a wide pool. This year, Shin came up with a "requiem t-shirt". In writer Otsuichi's words, "it looks like a Japanese lacquer craft". It's a t-shirt for you to communicate with yourself, are the words of Shin. The water pattern drawn by a ballpoint pen is really complicated when you take a close look at it!


I work at a library. I feel that the quietness in Sobue's t-shirt is similar to the quietness of the library. I want to wear this to work.
(Marurin)
Related articles:
Special Interview: Author Otsuichi and Shin Sobue

JPNAA
Kashiwa Sato
One of the most popular art directors of today, Kashiwa Sato. Not only people in the art field or the advertisement field support his design, but people who didn't know about Kashiwa until now loves his design. It's amazing how he draws people like this. The soft pink color of the t-shirt is one of the reasons people choose this design.


This t-shirt seems to stand out on every photo of the T-1 team model. I think it's a t-shirt that highlights the person wearing it. The letters of "JAPAN" mixed up are supposed to be just alphabets, but darn, it looks cool!
(Kawasaki-san)

Das Fussballfeld
Erik Spiekermann
A great designer of Germany, Eric Spiekermann. One of the representative works he has done is the logo of Audi. He designed the elements of a football field and its measurement on the t-shirt. The disciplined characteristic of German football is also expressed through the design of the rules and measures.


The football world cup is held in Germany, and I think this t-shirt will let me remember this year and the matches I saw.
(Ochi)

MaEum
Mimi Son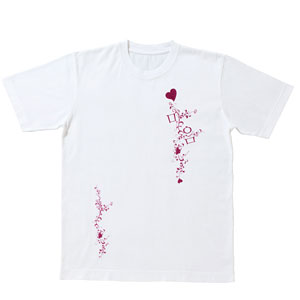 The gentle atmosphere of this design is favored by many of the female readers. And men who choose to wear this t-shirt have a good unique taste! The word "Ma Eum" means "the mind" in Korean. This word is blended into the illustration in a brilliant way.


The waves of fine lines of the design are so cute! Everyone who wears this t-shirt will definitely look cute!
(Annyan)
Related articles:
Designers wear their own t-shirts! -Round 2: Mimi Son-
Promo Battle! -Mimi Son representing Korea-


Kickheads
Phunkstudio
The pattern of figures kicking the ball is printed all over the front and back. The backprint of this shirt is the same design on the front, the colors reversed.
This t-shirt is designed by Phunkstudio, a famous design unit even acclaimed by an authority design magazine in UK.
One of the reasons the readers bought this t-shirt was to remember the football world cup of this year.


The design by Phunkstudio is really an integration of soccer and design. It's the tournament that takes place only once in four years, I had to buy a soccer related t-shirt!
(Mee)

The battle ends in a few hours. Which t-shirt did you vote for?
If you're still deciding which t-shirt to buy, please make sure to place your order ahead of time.
This is your last chance to purchase an art work of the top designers of the world, each with a serial number.

Please watch the 2nd T-1 WORLD CUP till the end, where the 2nd t-shirt world champion will be chosen from the 24 designs of 13 countries around the world.

2006/7/10