Different cultures, different taste!
We'd like to know what people outside Japan think, and which t-shirt they will choose!
So we recruited T-1 correspondents for overseas, and we've received some reports!
Correspondent RansuYoko, who works at a cruise company for sightseers, reports from Australia.

White sand beach that stretches out for 40 kilometers, the sun shining upon everyday…
The Gold Coast.
It's sunny almost every day, rainy days and cloudy days are rare. People living in such climate naturally become cheerful and friendly.
I interviewed my friend FAY (photo) what she thinks of the T-1 t-shirts!
want
champion
Fighting Club
poledesign

This t-shirt is really creative. It's interesting, incorporating an imaginary animal, and the soccer ball looks like an eyeball! I want this t-shirt, and I think it's the one to win.
(FAY)
In Australia, there are many things with an Asian taste to it, and is considered stylish. This t-shirt has that Asian aspect that is appealing to a non-Asian. It's nice! I think it will become popular if sold in Australia.
I saw a TV program the other day, with a celebrity wearing a sports uniform type t-shirt with "Kyoto" on it in Kanji.
As for my opinion, I'm deciding whether to buy "104.5 degrees" by Taku Satoh, or "Interstellar Greeting Card" by Silas Hickey of Australia.
Both t-shirts look intelligent and sexy!

So Asia is "in" in Australia! Fighting Club is just the t-shirt!
Thank you RansuYoko, for the report and all the detailed information of your location!
Our next correspondent is Makoto, who lives in Setagaya Tokyo with her husband and her one year old son. She interviewed her friends overseas through e-mail!

I interviewed Patrice, a former colleague of mine. He lives in his homeland Paris with his newly wed wife.
want
Bara Iro
Naoto Fukasawa


I perceive football as a peaceful and gentle sport, so I chose this. The design is simple, and the color used as accent is really nice.
want
MounT. FUJI
Gugi Akiyama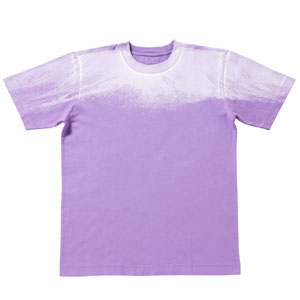 If this MounT.FUJI was a deep navy color than this purple, I would've definitely bought it! The concept, the idea, and the design are all superb! It's really Mount Fuji.
champion
Ma Eum
Mimi Son


It's like "zen". I think many people will like it, regardless of gender.
(Patrice)
When I asked him about the T-1 WORLD CUP, he said that:
The concept is interesting! I think it's good to have a mixture of cultures.
I would like to know which t-shirts the designers actually like.

My next interview was to the boyfriend of my friend from college, Stefano. He lives in London now.
want
champion
Be Great
Kam Tang


The design is cool, and it reminds you of the football World Cup, and it catches your eye with this cartoon like drawing.
I thin this t-shirt will win, and I want to buy the t-shirt that I think will win!
(Stefano)

My last interview was to Christina, a friend from my cooking school.
She's from Spain, and lives in Yokohama now, teaching Spanish.
want
Ventriloquist of Eleven
Nando Costa


The design and the colors are of my taste.
I think it has the most originality.
champion
Blue baby
Hamasutra

I think either "Blue Baby" by Hamansutra or "Ventriloquist of Eleven" is going to win. I personally think men will like the design of the "Blue Baby" t-shirt.
(Christina)

Wow!
Different cultures, different taste!

In our reports, the Asian designs seemed to be popular. The t-shirts of Japanese designers, Mimi from Korea, and Poledeisign of China gained many favorable comments!

And FAY who lives near Asia said the "Fighting Club" is number one, while Chiristina from Spain thinks Nando from Brazil is number one.
I wonder if geometrical closeness or cultural similarities affect their decision.
It was really interesting to hear their voice.

Thank you again for the interviews!

2006/7/7

Hi all!
We're really in the last phase of the 2nd T-1 WORLD CUP.
Have you decided which t-shirt you want to buy?
People are telling us what a hard decision it is to choose from the 24 unique t-shirts.
But!
The 2nd T-1 WORLD CUP will be closing soon, on July 10th, 3:00pm Japan time.
Here are some comments we received from readers who already made their decision.
Hope this helps you make up your mind!
It's pretty interesting to hear how others made their decision.


104.5°
Taku Satoh


Although there were more t-shirts to choose from compared to last time, I bought Taku Satoh's design. It was love at first sight. The refreshing blue color, and the 104.5 degrees on the front. Simple and nice. Of course, I know what 104.5 degrees means now. And yes, it's an important angle for us. I guess that's the reason why this t-shirt is this color. It makes sense. I hope the t-shirt I bought becomes the champion t-shirt this year!
(Hataraku Kuruma)

Intersteller Greeting Card
Silas Hickey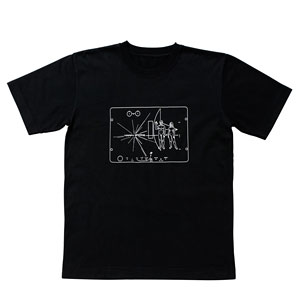 usagidesu.yoroshiku.
Tom Vincent


Pioneer 10, the Voyager, it's really what excited our generation! (I'm in the mid 30's).
I remember NHK doing special TV shows on them! "Panorama Solar System" and so on.
It's like fate for me to choose Silas's t-shirt.
Oh, and of course, I can't forget Tom's t-shirt. I bought his t-shirt last year too.
This year, I bought two t-shirts, Silas's and Tom's.
(Yuzu Neko)


MounT. FUJI
Gugi Akiyama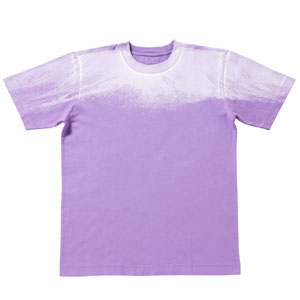 The purple is soothing
I'm sure it will look good
I want to wear this t-shirt, get drunk, and shout "eruption!!"
(Oku)

Aishitai Nihon
Ayumi Ohashi


I remember myself watching Ohashi's t-shirt last year, trying to make up my mind till the last minute. This year, I chose it almost instantly. I love this kind of blue.
The Configurable T-shirt
Usman Haque


I don't know why, but my eyes were clinched onto this t-shirt for some reason. The vivid colored dots on a black t-shirt. And you can create your own t-shirt with it!
Ma Eum
Mimi Son


Simple, but gentle and delicate… I just instantly knew that I liked this t-shirt!
I'm about he same age as Mimi, and she lives in a country next to us. I personally feel close to her.
(Lukia)

LION HA-NETEIRU.
Tsuguya Inoue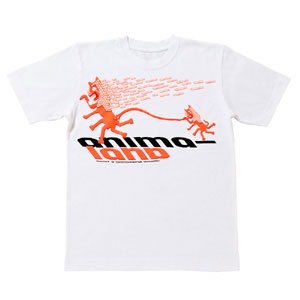 It'll look cool on girls, and I love the lions that look like shiisa (lion-shaped roof ornament of Okinawa)!!
I'm going to wear this to summer music festivals! Definitely a winner!
Tea-shirt
Klein Dytham Architecture



Bara iro
Naoto Fukasawa


"Tea-shirt" by KDa, and "Bara Iro" by Fukasawa.
When I saw the picture of KDa wearing their t-shirts, a new point of view entered my criteria for choosing a t-shirt. "How I want to wear the t-shirt", "How I would like to coordinate the t-shirt" came in, in addition to choosing t-shirts just by the design.
The t-shirts are an artwork, but when you wear it, it's everyday life.
If I were to just hang the t-shirts on the wall as artwork, I could just choose by which design matches my taste, but I wanted to wear the t-shirts in my everyday life.
Does it look good with the clothes I have? The bags I use? Would it look good worn inside a jacket?
Of course, empathy with the design itself or the concept of the design is a fundamental criteria.
(Pikorin)

Fighting Club
poledesign


I'm into Asian outfits these days. I've been looking for an Asian t-shirt.
What is there more to say?
(tororo)


Be Great
Kam Tang

I really like "Be Great" by Kam Tang. It's a design that will make you smile. The way it makes you want to jump outdoors! BBQ wearing this t-shirt sounds nice. Some beer to go with it sounds good too!
(Shiochan)

Peace from New York
Stefan Sagmeister

Definitely will get votes from the Beatles fans and John Lennon fans. The design done by Stefan Sagmeister puts a premium on the famous t-shirt that John wore.
It's a purely a cool t-shirt.
(Prita)

What do you think?
Some people choose by the design, some people imagine where to go wearing the t-shirt they buy, some people think of the other clothes they have, the bags they carry…
So many different reasons!
Oh, by the way, we're receiving e-mail from overseas!


Cool project!
right, I'm going to dive back into your site
and check out more tees, good luck to you.

(Jeremy)


my vote is for KAM TANG.
(Anonymous)

We're glad that people around the globe is interested in T-1!
It is, after all, a world cup of t-shirts!

We're planning more fun projects for you as we enter the grand finale of this festive competition.
More t-shirt team models will be appearing!
And we may be hearing from last years champion!?

Stay tuned!

2006/7/7

Hi all!
A week is about to pass since the opening of the 2nd T-1 WORLD CUP.
We're receiving loads of e-mail every day!
Today we'll give you a glimpse of what people thought of the t-shirts!
Just to refresh your memory, here are the questions we asked:
Which t-shirt would you like to buy/have already bought?
Which t-shirt do you think will win?
We were just amazed at how different everyone's opinions were.
For those of you who still haven't decided on your vote, this may be something to
read to help you make up your mind.
Here we go!
Shopping is always about instinct. T-shirts are no exclusion.
So here are some voices from the readers who decided which t-shirt to buy by
"instinct".



JPNAA
Kashiwa Sato
Love at first sight.
It looks cool!
The color of the shirt, the color of the logo, and the design on the back, everything is great.
If I would express it in English, I guess it would be "It's so cool!"
sleeping fish
Shin Sobue

I didn't buy last year's Akahara-T.
I wasn't sure if I could wear it well. This one, I think I can wear.
The t-shirt for this year again looks cool, especially the way the lines are drawn.
T(ypography)-shirt
Oded Ezer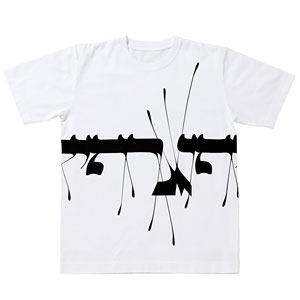 At first it just sort of drew my attention, but when I saw the design on the back,it really started to attract me.
I like t-shirts with prints on the back, so this t-shirt is really my type.
I am drawn to the print on the back more than the one on the front.
This t-shirt is "cool" too.
I've realized that what matters to me when I choose t-shirts is whether they look "cool" to me or not.
(Kiyo)



sleeping fish
Shin Sobue


KickHeads
Phunk studio
I want to buy them because I simply like them.
I think it will look good worn layered with other clothes.
I'll ponder a bit more before I decide.
Ma Eum
Mimi Son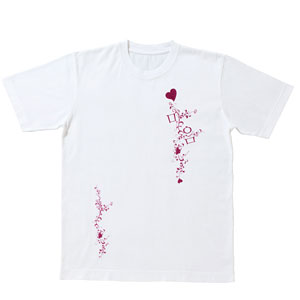 I think this shirt will be the winner, because it looks easy to wear, and the way the Korean alphabet is in the design is cute.
(Tko)

T(ypography)-shirt!
Oded Ezer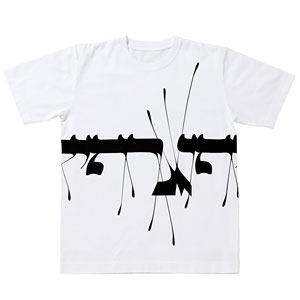 I was looking for a black and white t-shirt.
When I read the details of this design…. boom!
The front print and the back print became one, and it the design suddenly increasedits depth.
The front and back designs aren't actually connected, but it looks like one design.
This design has something in common with the Red and White Plum Blossoms Screens or the Iris Screens of Korin Ogata.
Aishitai Nihon
Ayumi Ohashi
I picture myself remembering "I bought this t-shirt in the T-1 WORLD cup, during the 2006 World Cup in Germany. The match between this team and that team was such a game."
It's the year of the World Cup as well as the season for T-1 WORLD CUP.
The color of Japan Blue and her illustrations of the rising sun, and Mount Fuji touched my heart.
JPNAA
Kashiwa Sato
Simple, but to the point.
I like the way he's World Cup conscious and put JAPAN in the t-shirt, and how the color fits both men and women.
I like the way the logo is bold and strong too!
Samurai, is the word!
And the logo is different on the front and on the back!
Nothing more to say!
(Mee)

104.5 degrees
Taku Satoh

JPNAA
Kashiwa Sato

I looked at the 24 t-shirts, and clicked the one that I liked most, and it was Taku Satoh's design!I bought his t-shirt last year!
Then I clicked the one I like next.Kashiwa Sato.
I bought his t-shirt last year!
How funny and strange.
Design is a type of language I guess.
(Miu)

Blue Baby
Hamansutra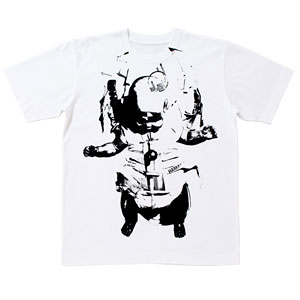 T(ypography)-shirt!
Oded Ezer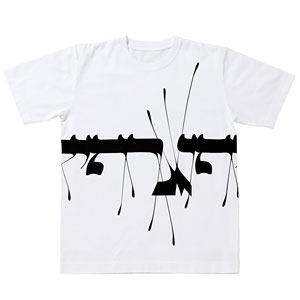 They both touch my heart.
Humor, cuteness, and grace.
I can see the designers enjoying their creation.
I feel like I can be friends with them.
Bara Iro
Naoto Fukasawa
WHERE IS YOUR COUNTRY?
Michihiko Yanai

Simple white t-shirt that's easy to wear is an advantage.
It stands out, but not too much.
(Subtleness is the intention)
A unisex t-shirt? I guess?
Makes both boys and girls happy! maybe?
(Nemuzo)

MounT. FUJI
Gugi Akiyama
It stood out from the others, just like Mount Fuji!
WHERE IS YOUR COUNTRY?
Michihiko Yanai
Simple and global.
Good to wear solo, or under other clothes.
Looks like it'll be easy to wear.
JPNAA
Kashiwa Sato
I liked both of his t-shirts last year, and I regret not buying them.
I couldn't wait to see Kashiwa's design this year.
I really like the cuteness within this simple and stylish t-shirt.
You can't find a soft pink t-shirt with only a simple logo like this one. Usually they come sweet and lovely.
I really like the combination of pink and the "JPNAA" logo.
Tea-shirt
Klein Dytham architecture
I like the simplicity and the elegance in this t-shirt, the way the illustration is drawn with lines, the combination of pink and navy, and the balance of the amount
of these two colors.
Plus I collect tea cup patterns.
Bara Iro
Naoto Fukasawa
The way that it looks like a soccer ball but really is a pattern of roses is really nice.
I think it will remind you of this year's World Cup when you wear this in the future.
A lot of people may choose this as their favorite, but I am guessing that many people will order this as an extra t-shirt to remind them of this year's World Cup.
(Anonymous)

Interstellar Greeting Card
Silas Hickey
The concept is so intelligent!
Hello universe!
T(ypography)-shirt!
Oded Ezer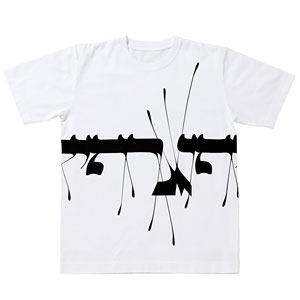 Strong impression, but yet stylish.
sleeping fish
Shin Sobue
No words to express his design work.
The Configurable T-shirt
Usman Haque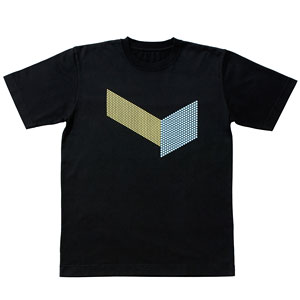 I think his concept of designing your own t-shirt will attract the readers of Hobonichi(Hobo Nikkan Itoi Shinbun).
usagi desu. yoroshiku.
Tom Vincent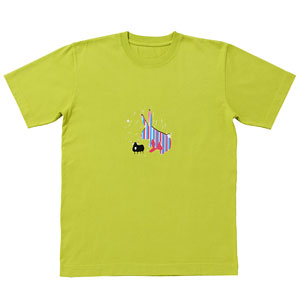 This is the t-shirt I first clicked when I saw the thumbnails of the shirts.
The point is that this was the first t-shirt I checked in detail, and voila!
It wasTom's design.I think he will make it again this year.
I think the design is more fashionable than last year.
I think it looks cool. I like it.I want to wear it, I want to buy it.
It's just so to the point. It's the work of last year's champion.
Vincent! My best wishes for the 2nd time champion!
(Kouketsushigeo)

Ok, more mail coming along.
Here are some mails from the "t-shit theorists", who logically explained their reasons of purchase and the grounds for predicting the champion.
Ma Eum
Mimi Son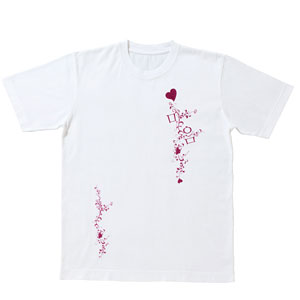 T(ypography)-shirt
Oded Ezer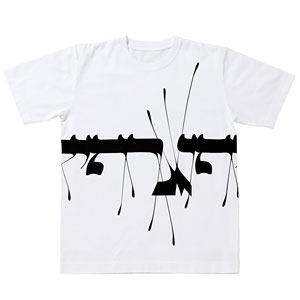 T-shirts with only letters on it draws my interest, like the "+LOVET".
The fonts, typography, are so interesting.
Mimi Son and Oded Ezer's designs were so attractive, I went to check their design in detail, and ended up viewing their official websites.
They are so artistic using Korean alphabet and Hebrew, although both are a pretty minor language.
I wonder if this design is possible with because their language and alphabet is systematic.
How would it be with Hiragana or Kanji?
(Anonymous)


Bara Iro
Naoto Fukasawa
This design shocked me when I saw it, and I ordered it.
I'm not sure of the reason why I like this t-shirt.
I think Bara Iro instantly conveys a message, more than what meets the eye.
WHERE IS MY COUNTRY?
Michihiko Yanai
I think this t-shirt has the power to spread as a tool to empower communication and a feeling of unity in situations like the soccer World Cup.
The concept is clear and easy to understand.
Bara Iro
Naoto Fukasawa
The red rose on white is simply beautiful.
Maybe there are many rose designs for women, but this rose-pattern is a rare design that men can wear on a daily basis.
Lion Ha-Neteiru
Tsuguya Inoue
I think a lot of people will like this happy image.
(keroyon)

Last but not least, is the "Emphasis on Concept" type of people.
Here are the messages from people who agree on the message from the designer, the concept, or their design.
WHERE IS YOUR COUNTRY?
Michihiko Yanai
I've been inspired by Yanai's work, but this concept just knocked me out.
If I wear this to a bar, I'll be the center of attention.
And I'll proudly point to Japan and say "I'm here from JAPAN!"
Even after the World Cups is over, never forget to bring it when traveling overseas!
Never forget it!
(kayo-san)

sleeping fish
Shin Sobue
The Configurable T-shirt
Usman Haque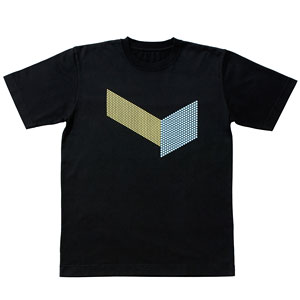 When ordering Sobue's goldfish t-shirt, the design in the lower right caught my eye.
I read the description of the design.
Color it with a permanent pen!?
I thought for 30 minutes, and ended up ordering both.
(Yaki)

Peace from New York
Stefan Sagmeister
John Lenon on the tag just got me.
After LOVE comes PEACE!
I hope a lot of people wear it believing that "we can change the world".
I'm buying this.
WHERE IS YOUR COUNTRY?
Michihiko Yanai
My colleague from the United States is getting married in August. She's marrying an Australian.
The two met in Japan, and so they're getting married in Hawaii, a middle point of USA (the continent), Australia, and Japan.
I was looking for a gift for them. When I saw this t-shirt, it came to me. This isit!
I'm buying one for her, and one for him.
(Michelle)

104.5 degrees
Taku Satoh
I solved the quiz, and now I know what this important angle means.
The earth, nor us, would have existed without this angle.
The truth in what the world consists of, is strikingly simple, and beautiful. Just like math.
The simple answer that lies in our hands evolved, multiplied, interlocked, and vibrated into its stable state. The earth.
Oh, and by the way, I'm a big fan of Taku.
Bara Iro
Naoto Fukasawa
I like roses.
A combination of fragrant blossoms of roses, and a sweaty soccer ball.
It gives me an image of a cool but rebellious person.
T(ypography)-shirt!
Oded Ezer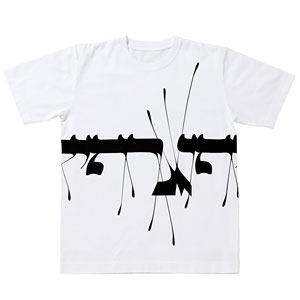 I like typography.
I like the thought that letters can evolve into artistic graphic.
I like the dynamic moves of the lines.
(Maimai)

Everyone is looking at the same t-shirts, but in a totally different way.
Each reason for their choice is unlike any other.
And those of you who are still making up your mind, we hope this page helped you with your decision.
Here are some other e-mails we've received.
This isn't a question about T-1, but when do people start wearing t-shirts?

Lately I see more and more people wearing t-shirts.
I wonder if there's a certain day people decide to start wearing t-shirts.
I always miss the timing, and the next thing I know, autumn is here.
Can someone give me some advice?
(Misasa)

I remember last year's T-1 WORLD CUP took place in fall.
The special packaged t-shirt was delivered around December.
I wonder when everyone opened their package?

Just some thoughts I've been pondering…
We are still waiting to hear from you!
Please tell us

the title of the t-shirt you would like to buy, or already bought
the title of the t-shirt you think will win

along with the reasons why, and e-mail us.

We are always waiting for your comments, from people who ended up changing their minds after reading the details of the designs, or from people overseas…
The more e-mail, the better!

See you next time!

2006/6/15