Different cultures, different taste!
We'd like to know what people outside Japan think, and which t-shirt they will choose!
So we recruited T-1 correspondents for overseas, and we've received some reports!
Correspondent RansuYoko, who works at a cruise company for sightseers, reports from Australia.

White sand beach that stretches out for 40 kilometers, the sun shining upon everyday…
The Gold Coast.
It's sunny almost every day, rainy days and cloudy days are rare. People living in such climate naturally become cheerful and friendly.
I interviewed my friend FAY (photo) what she thinks of the T-1 t-shirts!
want
champion
Fighting Club
poledesign

This t-shirt is really creative. It's interesting, incorporating an imaginary animal, and the soccer ball looks like an eyeball! I want this t-shirt, and I think it's the one to win.
(FAY)
In Australia, there are many things with an Asian taste to it, and is considered stylish. This t-shirt has that Asian aspect that is appealing to a non-Asian. It's nice! I think it will become popular if sold in Australia.
I saw a TV program the other day, with a celebrity wearing a sports uniform type t-shirt with "Kyoto" on it in Kanji.
As for my opinion, I'm deciding whether to buy "104.5 degrees" by Taku Satoh, or "Interstellar Greeting Card" by Silas Hickey of Australia.
Both t-shirts look intelligent and sexy!

So Asia is "in" in Australia! Fighting Club is just the t-shirt!
Thank you RansuYoko, for the report and all the detailed information of your location!
Our next correspondent is Makoto, who lives in Setagaya Tokyo with her husband and her one year old son. She interviewed her friends overseas through e-mail!

I interviewed Patrice, a former colleague of mine. He lives in his homeland Paris with his newly wed wife.
want
Bara Iro
Naoto Fukasawa


I perceive football as a peaceful and gentle sport, so I chose this. The design is simple, and the color used as accent is really nice.
want
MounT. FUJI
Gugi Akiyama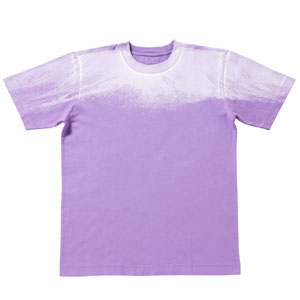 If this MounT.FUJI was a deep navy color than this purple, I would've definitely bought it! The concept, the idea, and the design are all superb! It's really Mount Fuji.
champion
Ma Eum
Mimi Son


It's like "zen". I think many people will like it, regardless of gender.
(Patrice)
When I asked him about the T-1 WORLD CUP, he said that:
The concept is interesting! I think it's good to have a mixture of cultures.
I would like to know which t-shirts the designers actually like.

My next interview was to the boyfriend of my friend from college, Stefano. He lives in London now.
want
champion
Be Great
Kam Tang


The design is cool, and it reminds you of the football World Cup, and it catches your eye with this cartoon like drawing.
I thin this t-shirt will win, and I want to buy the t-shirt that I think will win!
(Stefano)

My last interview was to Christina, a friend from my cooking school.
She's from Spain, and lives in Yokohama now, teaching Spanish.
want
Ventriloquist of Eleven
Nando Costa


The design and the colors are of my taste.
I think it has the most originality.
champion
Blue baby
Hamasutra

I think either "Blue Baby" by Hamansutra or "Ventriloquist of Eleven" is going to win. I personally think men will like the design of the "Blue Baby" t-shirt.
(Christina)

Wow!
Different cultures, different taste!

In our reports, the Asian designs seemed to be popular. The t-shirts of Japanese designers, Mimi from Korea, and Poledeisign of China gained many favorable comments!

And FAY who lives near Asia said the "Fighting Club" is number one, while Chiristina from Spain thinks Nando from Brazil is number one.
I wonder if geometrical closeness or cultural similarities affect their decision.
It was really interesting to hear their voice.

Thank you again for the interviews!

2006/7/7