Hi all!
We're really in the last phase of the 2nd T-1 WORLD CUP.
Have you decided which t-shirt you want to buy?
People are telling us what a hard decision it is to choose from the 24 unique t-shirts.
But!
The 2nd T-1 WORLD CUP will be closing soon, on July 10th, 3:00pm Japan time.
Here are some comments we received from readers who already made their decision.
Hope this helps you make up your mind!
It's pretty interesting to hear how others made their decision.


104.5°
Taku Satoh


Although there were more t-shirts to choose from compared to last time, I bought Taku Satoh's design. It was love at first sight. The refreshing blue color, and the 104.5 degrees on the front. Simple and nice. Of course, I know what 104.5 degrees means now. And yes, it's an important angle for us. I guess that's the reason why this t-shirt is this color. It makes sense. I hope the t-shirt I bought becomes the champion t-shirt this year!
(Hataraku Kuruma)

Intersteller Greeting Card
Silas Hickey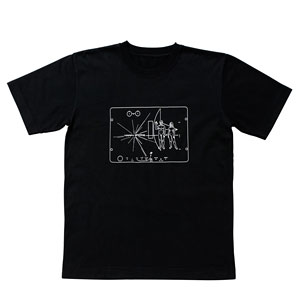 usagidesu.yoroshiku.
Tom Vincent


Pioneer 10, the Voyager, it's really what excited our generation! (I'm in the mid 30's).
I remember NHK doing special TV shows on them! "Panorama Solar System" and so on.
It's like fate for me to choose Silas's t-shirt.
Oh, and of course, I can't forget Tom's t-shirt. I bought his t-shirt last year too.
This year, I bought two t-shirts, Silas's and Tom's.
(Yuzu Neko)


MounT. FUJI
Gugi Akiyama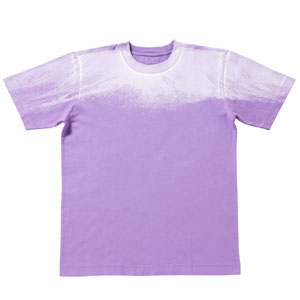 The purple is soothing
I'm sure it will look good
I want to wear this t-shirt, get drunk, and shout "eruption!!"
(Oku)

Aishitai Nihon
Ayumi Ohashi


I remember myself watching Ohashi's t-shirt last year, trying to make up my mind till the last minute. This year, I chose it almost instantly. I love this kind of blue.
The Configurable T-shirt
Usman Haque


I don't know why, but my eyes were clinched onto this t-shirt for some reason. The vivid colored dots on a black t-shirt. And you can create your own t-shirt with it!
Ma Eum
Mimi Son


Simple, but gentle and delicate… I just instantly knew that I liked this t-shirt!
I'm about he same age as Mimi, and she lives in a country next to us. I personally feel close to her.
(Lukia)

LION HA-NETEIRU.
Tsuguya Inoue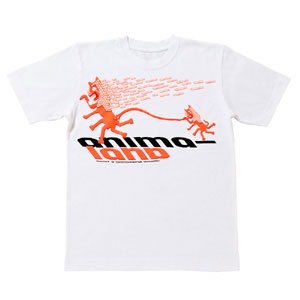 It'll look cool on girls, and I love the lions that look like shiisa (lion-shaped roof ornament of Okinawa)!!
I'm going to wear this to summer music festivals! Definitely a winner!
Tea-shirt
Klein Dytham Architecture



Bara iro
Naoto Fukasawa


"Tea-shirt" by KDa, and "Bara Iro" by Fukasawa.
When I saw the picture of KDa wearing their t-shirts, a new point of view entered my criteria for choosing a t-shirt. "How I want to wear the t-shirt", "How I would like to coordinate the t-shirt" came in, in addition to choosing t-shirts just by the design.
The t-shirts are an artwork, but when you wear it, it's everyday life.
If I were to just hang the t-shirts on the wall as artwork, I could just choose by which design matches my taste, but I wanted to wear the t-shirts in my everyday life.
Does it look good with the clothes I have? The bags I use? Would it look good worn inside a jacket?
Of course, empathy with the design itself or the concept of the design is a fundamental criteria.
(Pikorin)

Fighting Club
poledesign


I'm into Asian outfits these days. I've been looking for an Asian t-shirt.
What is there more to say?
(tororo)


Be Great
Kam Tang

I really like "Be Great" by Kam Tang. It's a design that will make you smile. The way it makes you want to jump outdoors! BBQ wearing this t-shirt sounds nice. Some beer to go with it sounds good too!
(Shiochan)

Peace from New York
Stefan Sagmeister

Definitely will get votes from the Beatles fans and John Lennon fans. The design done by Stefan Sagmeister puts a premium on the famous t-shirt that John wore.
It's a purely a cool t-shirt.
(Prita)

What do you think?
Some people choose by the design, some people imagine where to go wearing the t-shirt they buy, some people think of the other clothes they have, the bags they carry…
So many different reasons!
Oh, by the way, we're receiving e-mail from overseas!


Cool project!
right, I'm going to dive back into your site
and check out more tees, good luck to you.

(Jeremy)


my vote is for KAM TANG.
(Anonymous)

We're glad that people around the globe is interested in T-1!
It is, after all, a world cup of t-shirts!

We're planning more fun projects for you as we enter the grand finale of this festive competition.
More t-shirt team models will be appearing!
And we may be hearing from last years champion!?

Stay tuned!

2006/7/7