We found writer Otsuichi wearing Shin Sobue's "Akahara T-shirt" from last years T-1 on an interview article on Da Vinci magazine July issue.
Why the "Akahara T-shirt"? Otsuichi?
Our crew set out for an interview!
Sobue joined our crew later on, and their talk goes on to this year's T-1 WORLD CUP…
The "poetic" words of a writer and the "inspirational" words of a book cover designer meet and create a world only they can create!
| | |
| --- | --- |
| ── | Why were you wearing Sobue's t-shirt in your interview? |
| Otsuichi | My friend wrote an article on T-1 in the magazine "Invitation", and he told me about the project. I didn't know about it till then. |
| ── | Uh huh |
| Otsuichi | Sobue's design of the winding thing inside the ear caught my eye… |
| ── | The Sanhan (ear canal) t-shirt! |
| Otsuichi | Yes, it really got me. I ended up buying the Sanhan T-shirt and Tom's blue t-shirt (TOM-2006-iPod), the winner of last year. |
| ── | Did you! |
| Otsuichi | Sobue became the designer of the cover for my new novel "Guns and Chocolates", so I wore his t-shirt to our meeting. When he saw me wearing his t-shirt, he gave me his other design, the Akahara t-shirt. I decided to wear it to all the interviews on my new novel. |
| ── | That answers our question! But you two hadn't met at the point you bought the Sanhan t-shirt, right? |
| Otsuichi | Not at all. Of course I knew his name, but I hadn't met him in person yet. When I actually got to meet him, I was a bit nervous. He's such a famous figure. But actually, he was nice. I'm really glad he was a nice person |
| ── | (laugh) Actually, he's a really funny guy. |
| Otsuichi | Yes, totally. |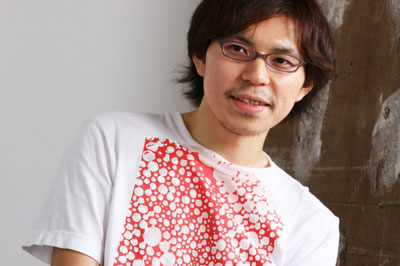 ──
Why did you choose Sanhan t-shirt last year?
Otsuichi
Well… Maybe it looked a bit awkward. At first I thought it was a snail. But then I read that the theme for the design was "a t-shirt to go with iPod", and I understood his design. I liked the mismatching combination of the realistic illustration and the pleasant colors.
──
The Sanhan t-shirt is printed with four different colors. The patterns are printed overlaying each other, rotated by 90, 60 and 45 degrees in angle. This creates the complex colors of this t-shirt. Even the craft workers couldn't guess the overall image while printing. Sobue's deep knowledge and experience on printing enables a design like this.
Otsuichi
Yes, I didn't expect this Akahara t-shirt to be so complex either. The ink being foamy, everything is so thought out in detail.
──
Sobue scanned the bubbles made by shampoo or something and used it as the design for that foamy part.
Otsuichi
Is that so!
──
Yes. That's why the bubbles look so real.
Otsuichi
Scanning shampoo bubbles… I see… wow.
──
We heard that someone saw Sobue scanning cast-off shells of cicadas. Lots of them.
Otsuichi
Really? By the way, with this pattern of the lizard skin on my stomach, it reminds me of some tribal tradition…. Or when I go out on my midnight jogging wearing this, I feel like a lizard running around the city!
──
(laugh)
How was it working with Sobue?
Otsuichi
He's really into details. The cover for my novel "Guns and Chocolates" is like a package of expensive chocolate. It's like you can use it as an interior decoration ornament. I was surprised, and am very happy.
"Guns and Chocolates" by Otsuichi (Kodansha)

| | |
| --- | --- |
| ── | Did you tell Sobue your ideas or concepts for this design? |
| Otsuichi | No, not this time. I told the illustrator my image of the illustration. Sobue probably read my novel, got the illustration, and designed this. |
| ── | A book cover designer has become a T-shirt designer also…. |
| Otsuichi | He can put himself in totally different worlds. By the way, I'm still amazed at the story of scanning the shells of cicadas… |
| ── | Which one of the 24 t-shirts do you think will win? |
| Otsuichi | Let me see… This typography t-shirt is eye catching. What does the 104.5 degrees stand for? The tilt of the earth's axis? |
| ── | Well… we can't give you the answer. Solving the quiz is part of the design. It's supposedly a very important angle for us. |
| Otsuichi | I need to figure out the answer. |
| ── | How do you like Sobue's design this year? |
| Otsuichi | It's very chic. It's like Japanese lacquer craft. Very nice. very cool. |
| Sobue | Hi guys! |
| ── | Hi Sobue! |
| | |
| --- | --- |
| Sobue | Sorry I'm late. Long time no see. How've you been doing? Otsuichi? |
| Otsuichi | I'm doing great. Thank you again for the great work. |
| ── | Sobue's wearing the Sanhan t-shirt! |
| Otsuichi | I'm glad I chose the Akahara t-shirt. |
| Sobue | Don't worry, I brought my Akahara t-shirt also, just in case you happen to choose the Sanhan t-shirt! |
| All | So well prepared! |
| ── | We hear that many people tell him what a nice t-shirt he's wearing, when he's wearing the Akahara t-shirt. |
| Otsuichi | It stands out, you know. I usually do a lot of logical calculation when writing a novel, but when I wear this t-shirt, I feel like I can write in a more wild and animalistic way. |
| Sobue | Yes! Wild and animalistic is the word. |
| Otsuichi | Having a reptile patterned stomach like this it's like a tribal painting done when going out hunting. I feel like I've become a lizard. |
| Sobue | I have to interrupt… It's a newt, an amphibian. It's a Cynops Pyrrhogaster. |
| All | (laugh) |
| ── | We were just saying that your design this year is really chic! |
| Otsuichi | I really like it. It's like the universe. |
| Sobue | Thank you! Last year's t-shirts were pretty high spirited, so this year I decided to create a "requiem t-shirt". I hope a lot of people would want to wear it. |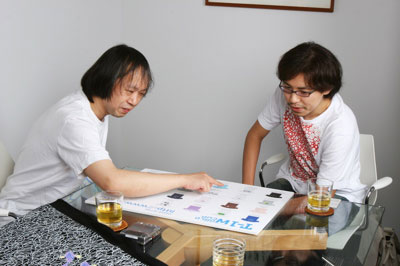 ──
By the way, which t-shirt do you think will win?
Sobue
Mine, of course!
But if it weren't mine… this one, maybe? (Points at Kashiwa Sato's JPNAA)


──
Can you please choose some t-shirts for the readers?
Sobue
Okay… If I were to buy one, I would choose this (Blue Baby)!
But actually, I would choose my t-shirt!
──
Ur… okay. Please advertise your t-shirt.
Sobue
Sure! First of all, it's really black!
All
(laugh)
Sobue
This black is a black that glows! The lines draw the midnight pool. See the shimmers of the water surface? I drew this with a ball point pen you know.
Otsuichi
It's very different when you look at it close.
Sobue
The good thing about this t-shirt is that you can wear it to a party or on funeralistic occasions too!
──
Funeralistic occasions…??
Sobue
A t-shirt can become a foundation for communication. It's like saying "this is who I am!" But this t-shirt, the "sleeping fish", is a bit different. There's a hidden concept to it, "communicating with yourself".
Otsuichi
Really? It does have a certain "quiet feeling" to it.
Sobue
It's a dream of a goldfish. A fish that doesn't blink is dreaming, sleeping in a large deep pool. Not in a small aquarium, but in a pool. You can become a home for the goldfish, and you want to make sure they have a quiet and relaxing atmosphere. Wear this, and become a pool for them. The two goldfish are sleeping, so it's good to move quietly for them. This is a t-shirt for taking some time to get in touch with yourself, or when you want to be quiet and feel the sound of the wind.
──
Yourself becoming a pool. What an amazing idea. There's a note of death in the air.
Sobue
Yes, yes. "Death" exists, and that is why "life" exists. By the way, the dream is the dream of the small goldfish on the tag. It's a nice t−shirt, a mellow one. Try it on!

Thank you very much! We can't wait to see the results!

So that is what the truth of this t-shirt was.
Remember to check out Otsuichi's t-shirt on his interviews!

The new novel by Otsuichi, "Guns and Chocolates", which the cover design was done by Sobue, is on sale in bookstores now. You can purchase the book on Amazon.com also.

2006/7/6