Next we have Mimi Son from Korea.
We've received some really nice photos!
Here you go!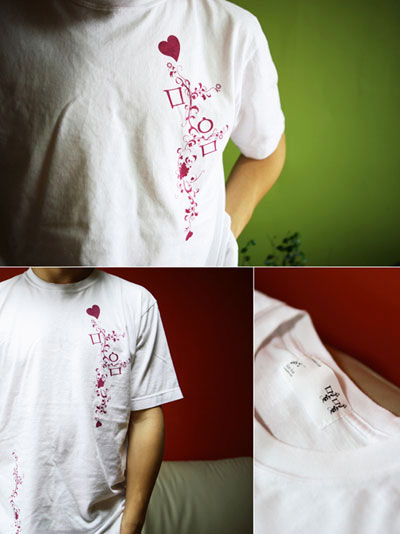 I took some photos in the garden of the studio wearing my t-shirt.
We often enjoy our tea time here.

I'm so happy to wear my to-shirt! (mimi)

Totally different from Hamansutra's photos, the t-shirt fits in completely in the soft and gentle air in these photos!

The small design on the back shows its presence, too.

Mimi Son, thank you again for the nice photos!

2006/6/29

Next promo is from Mimi Son, representing Korea.
Mimi Son is the designer of the "Ma Eum" t-shirt.
"Ma Eum" means "the mind" in Korean.

Letters of the Korean alphabet is embedded in her design like a collage. Her design creates a gentle atmosphere and is especially popular among women.

We would like to introduce you a movie for "Ma Eum" from Mimi Son.

Mimi made the word "Ma Eum" bloom in her image of flowers. She hopes to communicate with many people through this t-shirt.

The "Ma Eum" t-shirt and her movie both send us the concept image of her design.
Gentle, and open to everyone.

We heard that Mimi recently gave birth to a baby.
Maybe the heart motif drawn in her illustration of plants is connected to that happy incident!

2006/6/21