The T-1 team model project started from one simple desire.
We want to show more people wearing the T-1 t-shirts!
Following the comedians of Yoshimoto, we have students from overseas studying in Japan as our team model!
Uzbekistan, Kazakhstan, Czech, SriLanka, Africa, Bangladesh, Fiji, other countries of Asia, and so on!
So many different origins!
Just right for a world cup of t-shirts!
Off we went, to the location for the photo shoot.
Students from abroad with their t-shirts.
Different nationalities, a rich variation of people.
You're not wearing a T-1 shirt! But no problem, you look nice anyway!
Say cheese!
From left to right:
Laziz (179.5cm/size M)
Farid (179cm/size M)
Malika (157cm/size XS)
Dilbar (168cm/size XS)
You all look great too!
Fahmi (160cm/size M)
Mark (177cm/size M)
Azada (175cm/size S)
Whose this looking real good in Tsuguya Inoue's t-shirt?
Shami(177cm/sizeM)

Okay, now that you're all relaxed, let's take some more pictures!
25 models total, including Japanese staffs!
Look how long the line is!
Click the photo and see them jump!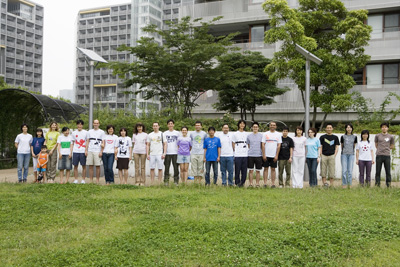 All of them, arms around each other.
International students wearing T-1 t-shirts together.
T-shirts have no borders!
We asked them to guess the winning t-shirt!
The t-shirt that got the votes of this mixture of people is…
Poledesign
China

It was pretty much a landslide victory for Chi Chen of Poledesign!
Congratulations!

The students who became our model are going back to their home country this September. We hope we made a nice spec of memory to bring back to their homes.
Don't forget T-1, please remember to check out the next T-1 from your country!

Thank you again!

2006/7/7