With the rain season in it's high peak in Tokyo, we had one problem with the photo shoots…
Rain!
Luckily it didn't rain too hard on any of the shoots, but the muggy weather gave us another problem…
We wash the t-shirts after each shoot, but the t-shirts don't dry in such a humid weather! Especially the size Ls…
And today, we have the American football club, the Tomahawks of Hosei University as our model!

We need lots of size Ls today, but the L sized t-shirts didn't dry in time…
So we went to their field with size M t-shirts.
Sorry guys, some of you look tight in your tees…
If your height is around 180cm and well fit, you might want to wear a size L. If your pretty think for 180cm, you may go fine with a size M.
Check out the photos for the sizing!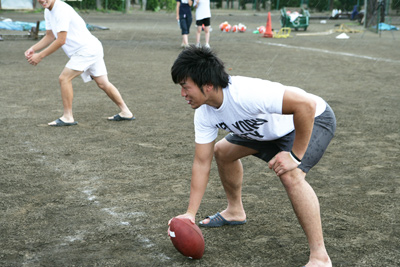 A size M maybe a bit tight on the sleeves?

Maybe this size M may be a bit too tight for you?

Size M just right for you!


Pass practice!


American football is such a high impact sport!


Practice is over…


Say cheese!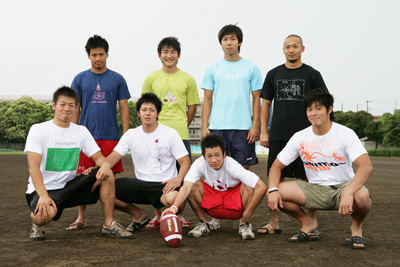 The size M t-shirts on the lower left and right members maybe a bit tight?


The T-1 t-shirts look nice on athletes too!


The staffs of the Tomahawks wear size XS.


If you like tight fitting outfits, or if your fairly thin for your height, maybe you can go with a size M.
Please use the pictures as a reference to choose your size!
For those of you who want to check out a size L t-shirt on a large framed body…
Here's Tsuyoshi Kosaka of mixed martial arts!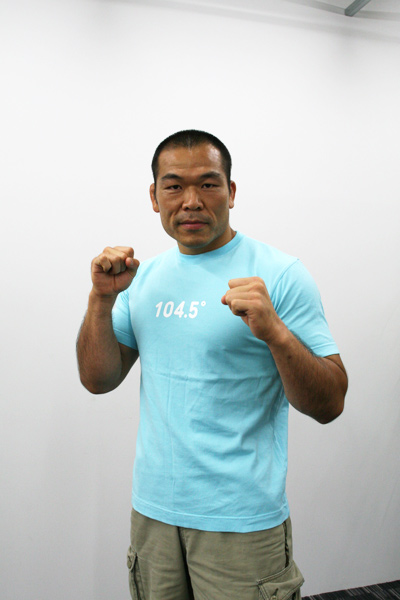 Kosaka, 181cm and 102kg, is wearing a size L!
The muscles…

Kosaka was here at our office to teach us "Kosaka Exercise". It's an exercise to train the fundamental moves of everyday life, and keeps you fit!

If you're interested, check out Kosaka's gym "A-SQUARE"!

2006/7/10

Hi all!
We're receiving e-mail telling us that once they saw the t-shirts worn by the models, they switched their minds on which t-shirt to buy!
We're glad to be of help!
So here you go, more pictures for you to look at!

Team number one for today is the students at the copy writer course of the Senden Kaigi School!
How will they wear the t-shirts?
Let's find out!



Senden Kaigi School copy writer course class b, a total of 24 classmates!


T-shirts from all different countries in one frame.


The back shot of Kashiwa's JPNAA.
The print of Koinobori 2006 shines under the sun!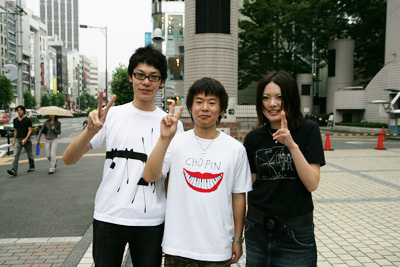 Kinga's t-shirt, cheerfully worn.

A tightly worn Blue Baby. Looks great!

The fashion queen of today! The t-shirt tucked into her jeans!

Everyone looked so good wearing the t-shirts! They must have chosen what to wear today thinking about T-1 t-shirts… Thank you!

Next team to model is the Design Communication Course of Schooling Pad, held in Setagaya Monotsukuri School.
Three designers of T-1 had held classes at this institute! Michihiko Yanai, Mark Dytham of KDa, and Silas Hickey.
Today we have the first graduates of the course. They still hang out together although they have finished the course!



Nice to be back here in the classroom! Say cheese!



Where is your country?



She came all the way from Okinawa for this day!



JPNAA by Kashiwa was one of the most popular t-shirts!



Nice back shot!



Tom's t-shirt was also popular.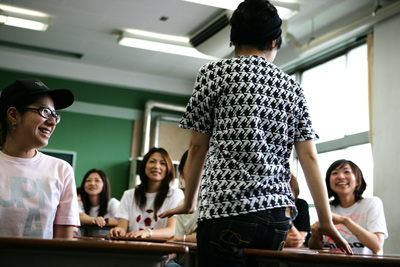 The color is reversed on the back print of Kickheads.



If you like Asian, this is the t-shirt for you. "Fighting Club".



This t-shirt looked good on Jun Miura, but also looks good on women!


Saru, the leader, loved Oded's t-shirt!


Oops! That was Oded himself.
Schooling Pad is recruiting the third round of students, class starting from September 9th 2006.
The school holds three departments altogether, Design Communication, Film Business, Restraunt Business.

Check out their web page for more information!

Contact:
Phone: 03-3421-1011
info@schooling-pad.jp

2006/7/10

Hi all!
The T-1 models are here again, for you to check out how the tees look actually worn!
Today we have two teams out on the streets of Shinjuku and Shibuya!
You'll get to see the t-shirts out on the streets!
Click the pictures for an enlarged view!
The sizes the models wear are labeled in the enlarged view.
Here we go!


Team Corn Soup
This team is a team with an aim to have fun. They play hide-and-seek in amusement parks, they plan surprises for the member's birthdays, they have fun planning things to enjoy life!
Some of the members of Corn Soup came all the way from Sendai or Yamagata just for this shoot!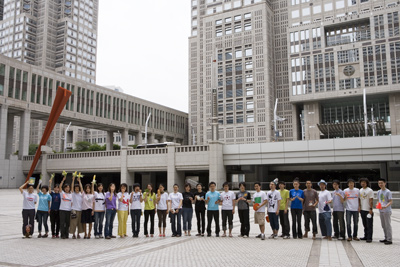 Team Corn Soup taking over Shinjuku!

Team Corn Soup with corn!

The energetic members of Corn Soup

The hungry members of Corn Soup

"Bara Iro" is a simple t-shirt, but it stands out!

Yuhei and Junko Maeda, their first wedding anniversary is coming soon!

Er… cooking something?

Calm down, calm down!Thank you all, thank you!
If you're interested in Team Corn Soup, e-mail them at corn_soup@hotmail.co.jpThey were a rad group!

The members of Kuwasawa Design School
Our next models are the students of the Visual Design Course at Kuwasawa Design School.
They were all interested n the T-1 t-shirts!



The dark building in the back is their school, Kuwasawa Design School.

A walk around the shool.

Walking towards Shibuya station.

The back shot of "WHERE IS YOUR COUNTRY?"

Raise you had while crossing the road!

Taku's t-shirt shines bright under the sun.

End of our 20 minute walk!

Thank you again! Hope you had fun!

2006/7/8

— « Next Page