Hi all!
The T-1 models are here again, for you to check out how the tees look actually worn!
Today we have two teams out on the streets of Shinjuku and Shibuya!
You'll get to see the t-shirts out on the streets!
Click the pictures for an enlarged view!
The sizes the models wear are labeled in the enlarged view.
Here we go!


Team Corn Soup
This team is a team with an aim to have fun. They play hide-and-seek in amusement parks, they plan surprises for the member's birthdays, they have fun planning things to enjoy life!
Some of the members of Corn Soup came all the way from Sendai or Yamagata just for this shoot!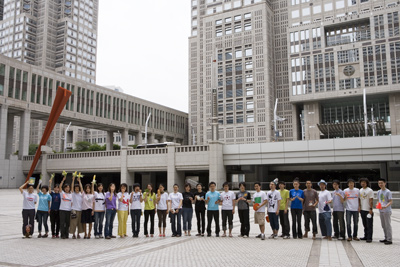 Team Corn Soup taking over Shinjuku!

Team Corn Soup with corn!

The energetic members of Corn Soup

The hungry members of Corn Soup

"Bara Iro" is a simple t-shirt, but it stands out!

Yuhei and Junko Maeda, their first wedding anniversary is coming soon!

Er… cooking something?

Calm down, calm down!Thank you all, thank you!
If you're interested in Team Corn Soup, e-mail them at corn_soup@hotmail.co.jpThey were a rad group!

The members of Kuwasawa Design School
Our next models are the students of the Visual Design Course at Kuwasawa Design School.
They were all interested n the T-1 t-shirts!



The dark building in the back is their school, Kuwasawa Design School.

A walk around the shool.

Walking towards Shibuya station.

The back shot of "WHERE IS YOUR COUNTRY?"

Raise you had while crossing the road!

Taku's t-shirt shines bright under the sun.

End of our 20 minute walk!

Thank you again! Hope you had fun!

2006/7/8