With the rain season in it's high peak in Tokyo, we had one problem with the photo shoots…
Rain!
Luckily it didn't rain too hard on any of the shoots, but the muggy weather gave us another problem…
We wash the t-shirts after each shoot, but the t-shirts don't dry in such a humid weather! Especially the size Ls…
And today, we have the American football club, the Tomahawks of Hosei University as our model!

We need lots of size Ls today, but the L sized t-shirts didn't dry in time…
So we went to their field with size M t-shirts.
Sorry guys, some of you look tight in your tees…
If your height is around 180cm and well fit, you might want to wear a size L. If your pretty think for 180cm, you may go fine with a size M.
Check out the photos for the sizing!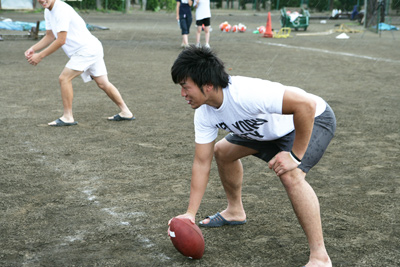 A size M maybe a bit tight on the sleeves?

Maybe this size M may be a bit too tight for you?

Size M just right for you!


Pass practice!


American football is such a high impact sport!


Practice is over…


Say cheese!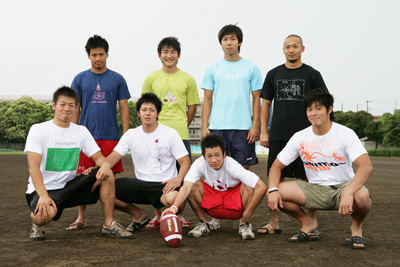 The size M t-shirts on the lower left and right members maybe a bit tight?


The T-1 t-shirts look nice on athletes too!


The staffs of the Tomahawks wear size XS.


If you like tight fitting outfits, or if your fairly thin for your height, maybe you can go with a size M.
Please use the pictures as a reference to choose your size!
For those of you who want to check out a size L t-shirt on a large framed body…
Here's Tsuyoshi Kosaka of mixed martial arts!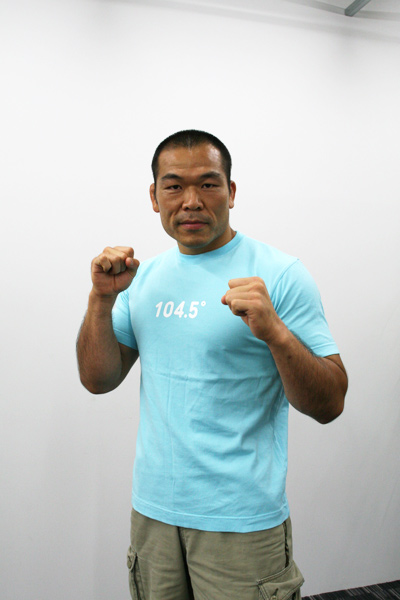 Kosaka, 181cm and 102kg, is wearing a size L!
The muscles…

Kosaka was here at our office to teach us "Kosaka Exercise". It's an exercise to train the fundamental moves of everyday life, and keeps you fit!

If you're interested, check out Kosaka's gym "A-SQUARE"!

2006/7/10