Hi all!
The T-1 team model project started from one simple desire.
We want to show more people wearing the T-1 t-shirts!
The third team model for the T-1 team model project is 25 actors and actresses of tomorrow, studying acting at the Institute of Theatrical Performance at the New National Theatre Tokyo!
This institute is the first national school of theatrical performance in Japan, opened just two years ago.
30 first year and second year students are studying acting every day here.
The star of tomorrow may be in this class!
A wonderful flock of models for the T-1 WORLD CUP!
So again, we went off to see them at their school.
Hi all!
Hello!
You don't have to be so polite, you know!
Thank you for being our model, you all must be busy practicing!
Everyone had a good posture and a well-projected voice. The achievement of everyday practice, I suppose?
We'd really love to show everyone the energy and friendship they have…
Well, they are, actors and actresses, right?
Let's have them move freely!
Go ahead and practice!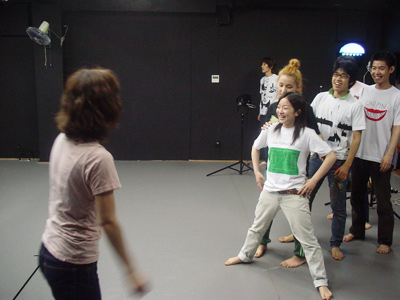 Dance, dance and dance…


The pose of a fan!

Um.. the "Garbage Busters"?
Okay guys, ready?
Click the photos!
…and action!!

(from left)
Yasuaki Saibara (173cm/size M)
Haruo Ui (170cm/size S)
Koji Furukawa (176cm/size S)
Noa Iwasawa (163.5cm/size XS)
Kaori Taki (155cm/size XS)
(from left)
Takeshi Kubota (177cm/size M)
Yuichi Yamamoto (170cm/size S)
Hibiki Kitagawa (180cm/size XS)
Saeka Kumasawa (163.5cm/size XS)

(from left)
Yusuke Toyama (176cm/size M)
Akiko Uchida (162cm/size S)
Yukiko Manaka (149cm/size XS)
Tetsuro Kadono (168cm/size S)
Mitsuru Sato (175cm/size M)
(from Left)
Maki Koizumi (158cm/size XS)
Issei Maeda (180cm/size M)
Shunsuke Noguchi (180cm/size L)
Reiko Takashima (158cm/size XS)
Sogo Nishimura (175cm/size M)

(from left)
Manami Okano (165cm/size XS)
Hidetoshi Mihara (172cm/size S)
Anna Kawai (162cm/size S)
Ryota Furukawa (180cm/size S)
Taeko Yoshida (161cm/size XS)


Thanks for all the action!
One last shot, everyone ready!
1, 2, 3… and action!
Thank you, thank you!
We're sure your energy and friendship is captured in the photographs!
As usual we asked them which t-shirt they think will win!
The number one t-shirt of the Institute of Theatrical Performance of New National
no.1
sleeping fish
Shin Sobue

Shin! Are you watching?
The students chose your t-shirt as number one!

Thank you again, everyone at the Institute of Theatrical Performance at the New National Theatre Tokyo!

2006/7/7