Have you checked out the 24 t-shirts in the competition already?
Each t-shirt has a name, and ideas are expressed in their designs.
In this busy world today, I guess you may be too busy to read the individual artists' pages…
But no worries. We put to gether a summary of the highlights for you!
Today' we'll introduce the 14 designs done by the contestants from overseas.
If you want to read more about the individual artists, just click the "Artist" tab on the menu bar, and the pages are waiting for you…
Peace from New York
Stefan Sagmeister
USA
Do you recognize the wrinkled way "NEW YORK CITY" is designed on this t-shirt?
This logo is from a portrait of John Lenon taken by Bob Gruen, a famous photographer. These letters are cut out just the way it was printed on this portrait, and printed on this t-shirt.
And look, on the tag of the t-shirt, you can see the original photo of John!
Be Great
Kam Tang
UK
This bright red illustration expresses Kam's thoughts on how soccer should be played, and how t-shirts should be worn.
Hmmm…. something the two have in common…
Happy, energetic, and dynamic, maybe?
By the way, have you noticed that the title "Be Great" is a play on words of "Great Britain"?

usagi desu. yoroshiku.
Tom Vincent
UK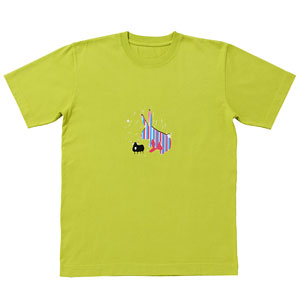 When you walk down the valley near Tom's family home in England early in the morning, the fields are full of rabbits playing in the fields.
After a few hours, the rabbits all dissapear like magic, and only a ram is left.
Tom expresses that countryside scene in his colors and illustration.
Want to know more about the adventures of the rabbit?
Check this page out!
http://tworlds.worldpress.com/

Tea-shirt
Klein Dytham architecture
UK/Italy

This "Tea-shirt" is a collaboration of a tea cup and a tea stirrer, an equipment used for Japanese tea ceremony!
A blend of European and Japanese culture, something only a non-Japanese architect unit based in Japan can do.
"Let's Foreign" on the front and "Gaijin Joto!!!" on the back is a global message from KDa, encouraging you to jump out into a world where you can become a Gaijin(foreigner)!

Das Fussballfeld
Erik Spiekermann
Germany
"Das Fussballfeld" means "Soccer Field" in German.
Erik, a designer from the host country of this year's FIFA World Cup, designed a soccer field with the elements of the fields and its measurements.
The disciplined characteristic of German football is also expressed through the design of the rules and measures.
In spite of the often conveyd dynamic image of sports, of people kicking, jumping and celebrating goals, Erik's aim was to merge another aspect of the game with this design; that all sports has a system of rules and measurements.

Blue Baby
Hamansutra
Germany/Iran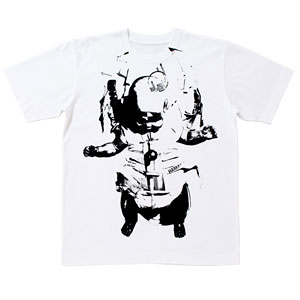 Hamansutra is the only fashion designer among the contestants.
A crashed dummy baby (the ones used for motor accident simulations) is printed all over on this shirt.
The design may look fashinable at fist sight, but this image is an image of "new babies for the world".
What message do you think it conveys?

Chopin funclub
Kinga
Poland

A cheerful and happy illustration expresses her respect towards Frederic Chopin, a famous composer from her homeland, Poland.
Chopin was an artist who was always inspired by the Polish folk arts.
Her message through this shirt is this: In this world today where national identities dissapear, examples like Chopin is necessary than ever!
Another message: Don't forget to wear this t-shirt when you visit Poland.

T(ypography)-shirt
Oded Ezer
Israel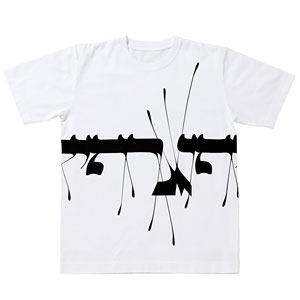 Oded is a famous typography artist in Israel
This design may look like an illustration or a pattern, but it actually is "Typography" written in Hebrew.
Oded wanted to create an exciting design, and yes, he was succesful!


Intersteller Greeting Card
Silas Hickey
Australia
This design, titled "greeting card between the stars", was inspired by the Pioneer 10 and 11 space probe plaques, which was launched to outer space in 1972.
The word "HAPPY ENDING" lies in the center of tha plaque, which illustrates a man and a woman and other symbols to explain where the spacecraft comes from.
This t-shirt also shows where Silas represents: "Australia is VERY MULTICULTURAL so in terms of this diverse ethnicity it can also represent PLANET EARTH"


Ventriloquist of Eleven
Nando Costa
Brazil
Soccor is the motif of Nando's design, thought it may not look so at first sight.
His design was inspired by the coach as a ventriloquist controlling the whole team.
The role of the coach, the art of the ventriloquist.

Fighting Club
Poledesign
China

Chi Chen says that life in Shanghai is so competitive and busy, it's like you're in a soccer field.
This t-shirt "Fighting Club" is the image of Shanghai, where you have to compete with yourself or with your counterworkers.
The ink on the outline of the Chinese character and the clouds is thicker than the other parts.
It's a t-shirt that both looks and feels three-dimentional!

Ma Eum
Mimi Son
Korea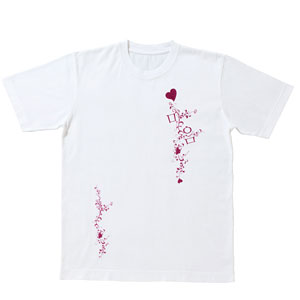 "Ma Eum" means "the mind" in Korean.
This word written in Korean alphabet is embedded in the illustration of a plant.
Mimi made this word bloom in her image of flowers.
With this tender image on this shirt, she hopes to communicate with many people.

Kickheads
Phunk studio
Singapore
When the designer of Phunk studio was a kid, there was a sign that said "no football allowed" where he used to play.
That sign never stopped him and his friends from playing soccer there.
Soccor is a game that anyone can play, regardless of race, age, or social status
They put this idea into their pattern of figures kicking the ball.
The backprint of this shirt is the same design on the front, the colors reversed.

The Configurable T-shirt
Usman Haque
PLANET EARTH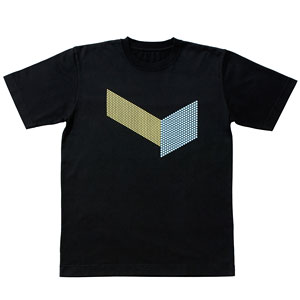 The hexagon shaped pixels printed with foam ink on this shirt are for you to color, to create a design of your own.
So now you know why the t-shirt is named "The Configurable T-shirt".
Here's where you can try "configuring" your design on this t-shirt.
http://www.haque.co.uk/tshirt

Now that you know the ideas and stores behind the designs, doesn't each t-shirt glow in a different way?
Tomorrow we'll be introducing the rest of the designers and their t-shirts, the 10 contestants representing Japan!
…to be continued!

2006/6/13