On my business trip to Shanghai, I suddenly remembered that Poledesign was joining T-1 from Shanghai. So I jumped out to interview Chi Cheng, using the short time I had between flights!
Making an appointment through the phone, I arrived at Poledesign's office in Shanghai.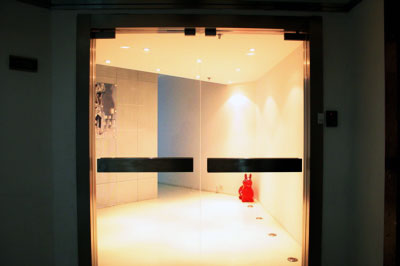 Poledesign has been involved in the Nike project in China. The entrance, the walls, the floor, is all white! In this hip office, staffs were busy enjoying their work.
We waited a while, and finally met Chi Chen!
He told us as much as he could about his t-shirt Fighting Club, in the short time we had.
| | |
| --- | --- |
| ── | Hi, nice to meet you! |
| Chi Cheng | It's a pleasure to meet you! Welcome to Shanghai! |
| ── | Sorry to take your time. |
| Chi Cheng | Not at all! Thanks for coming! It's such a good surprise! |
| ── | Thanks again for joining the T-1 WORLD CUP! Your t-shirt is doing pretty well! |
| Chi Cheng | Really? Thanks! |
| ── | Could we ask about the concept of your t-shirt? |
| Chi Cheng | Did you come here by taxi? How was the traffic? Pretty bad, huh? Shanghai is developing in such a speed. Everyone's busy working, and the competition is very intense. I put that atmosphere of Shanghai into this design. |
| ── | I see. So that's the reason for the name of this t-shirt, "Fighting Club"! |
| Chi Cheng | Exactly. Everybody is always competing with someone else, or with themselves. |
| ── | By the way, does the Chinese character that looks like "gate" mean the soccer goal? |
Chi Cheng
Actually, no. This isn't the Chinese character for "gate". It means "to fight" in old Chinese character.
──
Really? I totally thought it was the image of the goal, in connection with the FIFA World Cup….
Chi Cheng
Do you notice that the character for "king" is symmetrical?
──
Let me see… yes, yes!
Chi Cheng
This is an image of two kings fighting each other.
──
Oh I see! Wow… Interesting!
Chi Cheng
(laughs out loud)
──
How did this idea come to you?
Chi Cheng
When Poledesign got the offer from the T-1 office, my boss asked if anyone was interested, and I raised my hand.
After that, I built up my image for the t-shirt here in this busiest city in China, Shanghai, and came up with this design.
──
I see… By the way, can you tell us a little about the Nike design project done by Poledesign?
Chi Cheng
Sure. Poledesign was in charge of the total design for the Nike project in China. Logos, posters, catalogues, and so on. Actually, that was the first time designing a t-shirt. This catalogue in shocking pink is also from that project. It's a combination of two street cultures, skateboarding and graffitti. You can take it if you want.
──
Wow, thanks! Nice…. (examines catalogue)
Can you tell us some artists who have influenced you?
Chi Cheng
I love Yoshitomo Nara from Japan. Cute but rebellious looking characters… He has a distinct taste in his work!
──
I see that you have a plate with Nara's illustration on it! Or is that an ashtray?
Chi Cheng
It's one of my favorite.
──
One last question! Do you think you'll win in the T-1 WORLD CUP?
Chi Cheng
Yes. "Fighting Club" may not be a beautiful design, or a lovely design. But it sends out a message, about a social issue. I believe there are people who emphasize with this message.
Most of all, it was designing the t-shirt was a really exciting experience! It was like… like writing a novel. I'm confident with my design.
──
I see. Can you give us a message to the readers who are reading this page?
Chi Cheng
I'm happy to participate in T-1, with all the other great designers of the world. I hope to get in touch with many people through this t-shirt. Thank you!

By the way, Usman Haque mentioned Fighting Club as one of the potential winners, when we met him the other day!
Thank you again, Chi, for taking time out of your busy schedule!!

2006/6/23