Hi all!
We're receiving e-mail telling us that once they saw the t-shirts worn by the models, they switched their minds on which t-shirt to buy!
We're glad to be of help!
So here you go, more pictures for you to look at!

Team number one for today is the students at the copy writer course of the Senden Kaigi School!
How will they wear the t-shirts?
Let's find out!



Senden Kaigi School copy writer course class b, a total of 24 classmates!


T-shirts from all different countries in one frame.


The back shot of Kashiwa's JPNAA.
The print of Koinobori 2006 shines under the sun!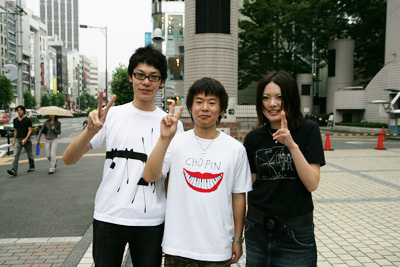 Kinga's t-shirt, cheerfully worn.

A tightly worn Blue Baby. Looks great!

The fashion queen of today! The t-shirt tucked into her jeans!

Everyone looked so good wearing the t-shirts! They must have chosen what to wear today thinking about T-1 t-shirts… Thank you!

Next team to model is the Design Communication Course of Schooling Pad, held in Setagaya Monotsukuri School.
Three designers of T-1 had held classes at this institute! Michihiko Yanai, Mark Dytham of KDa, and Silas Hickey.
Today we have the first graduates of the course. They still hang out together although they have finished the course!



Nice to be back here in the classroom! Say cheese!



Where is your country?



She came all the way from Okinawa for this day!



JPNAA by Kashiwa was one of the most popular t-shirts!



Nice back shot!



Tom's t-shirt was also popular.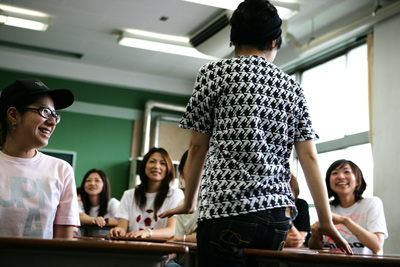 The color is reversed on the back print of Kickheads.



If you like Asian, this is the t-shirt for you. "Fighting Club".



This t-shirt looked good on Jun Miura, but also looks good on women!


Saru, the leader, loved Oded's t-shirt!


Oops! That was Oded himself.
Schooling Pad is recruiting the third round of students, class starting from September 9th 2006.
The school holds three departments altogether, Design Communication, Film Business, Restraunt Business.

Check out their web page for more information!

Contact:
Phone: 03-3421-1011
info@schooling-pad.jp

2006/7/10

We hear many favorable comments on Oded Ezer's Hebrew "T(ypography)-shirt!"
The sample t-shirt we sent to Oded in Israel seem to have arrived in his hands okay….
He sent us a charming picture.
Is that you, Oded, behind the t-shirt?
The e-mail he sent us reads "For the 'wear-it' samples…"
So this is how it would look on you, Oded!

Oded sent us a piece of his work along with the picture above, with which you can create your own Hebrew typography.
(C)Design:Oded Ezer Flash Operation:Itamar Lerner

Click the keys above, and the fonts will appear on the screen.
How interesting! How cool!
I have no idea what I'm typing in Hebrew, but it's really fun!
Oh is this how you write the number "4″ in Hebrew? I would have never guessed!

It's something everyone can enjoy. Show it to your friends!

Oded, thank you so much for such an amazing piece of work!

2006/6/26